Preparation
Stephen Nolan, managing director of Nutritics – a well known provider of recipe management and food labelling software – says that they have been working closely over the last year with businesses of all sizes, enabling them to set up accurate and efficient processes to comply with Natasha's Law.
"This regulation means that from 1 October 2021 any PPDS food sold, or provided to a consumer, needs to be labelled to the standards set out by the FSA. To produce an accurate label, food businesses need to ensure that for each product, they have accurately tracked its development from individual ingredients as they arrive from suppliers, to the recipe of that product, whether it's bread, salad dressing, a sauce or sandwich filling, and make sure that they've noted every ingredient and allergen so consumers can make an informed choice," explains Stephen Nolan.
"At Nutritics, we find customers are looking for a solution that will give them peace of mind that the information on the label is completely accurate. The first advice we give any business is to look at their stock and suppliers across their product range. They need to know what ingredients they have coming in from each supplier, what exactly is in anything that is pre-made, and also have a process in place where any substitutions are agreed in advance and notified. This will allow the food operator to create an accurate database of ingredients and any associated allergens which integrates into their PPDS food offering.
"One impact of Natasha's Law is that food businesses need to think differently when it comes to making a last minute substitution to a recipe or adding a new product at short notice. If you don't already have that substitution or new ingredient in your database, you need to go back and check for allergens and what that means for the label to the customer. Staff need to be aware of this extra step and why it's important. Our team works through all of these scenarios with each customer and then we look at how having a software package can provide a solution and minimise any risks.
"We've been incredibly busy working with both existing and new customers preparing for Natasha's Law and we expect it to continue this way for the rest of the year. We believe that Nutritics is the only software on the market that offers a single, end-to-end solution for Natasha's Law.
"From capturing ingredient information right through to printable, compliant labels, our solution takes care of everything. Not only that, it manages updates automatically, minimising human error. We match food operators with our database of suppliers and then empower them to manage their own recipe information, showing them how to flag substitutions and print accurate labels - regardless of location."
Staying compliant
York-based chef, Mark Morgan-Huntley, is one of several labelling solution providers to the sector who is urging business owners to plan ahead for new legislation that will affect hundreds of thousands of organisations selling food products.
In particular, Natasha's Law impacts businesses and traders who produce and package food for sale. Under current rules, food prepared on the premises in which it is sold does not have to display full allergen information in writing. The new requirements apply to 'prepacked for direct sale' (PPDS) items, which is food that is packaged onsite at the same premises where a customer then selects or orders it, meaning that once Natasha's Law comes into effect, each PPDS food item will need a label containing a full ingredients list.
Using his knowledge and insight into the industry, Mark Morgan-Huntley has pioneered a food labelling system called Allergen Checker, which is helping hundreds of businesses ensure they will be compliant with the new regulations.
"For some people who have food allergies, eating the wrong thing can mean life or death. It is estimated that two million people are living with a food allergy in the UK, and around 600,000 people suffer with coeliac disease," says Mark Morgan-Huntley.
"Natasha's family have campaigned tirelessly to bring about these regulatory changes and I agree that we should do as much as we can to ensure our products won't harm anyone. Natasha's Law will not only prevent severe reactions and deaths, it will also provide reassurance to people who have food allergies.
"As someone who has worked in catering for many years, I wanted to find a solution to this challenge for businesses in the industry. I have designed Allergen Checker to help conscientious caterers protect their customers."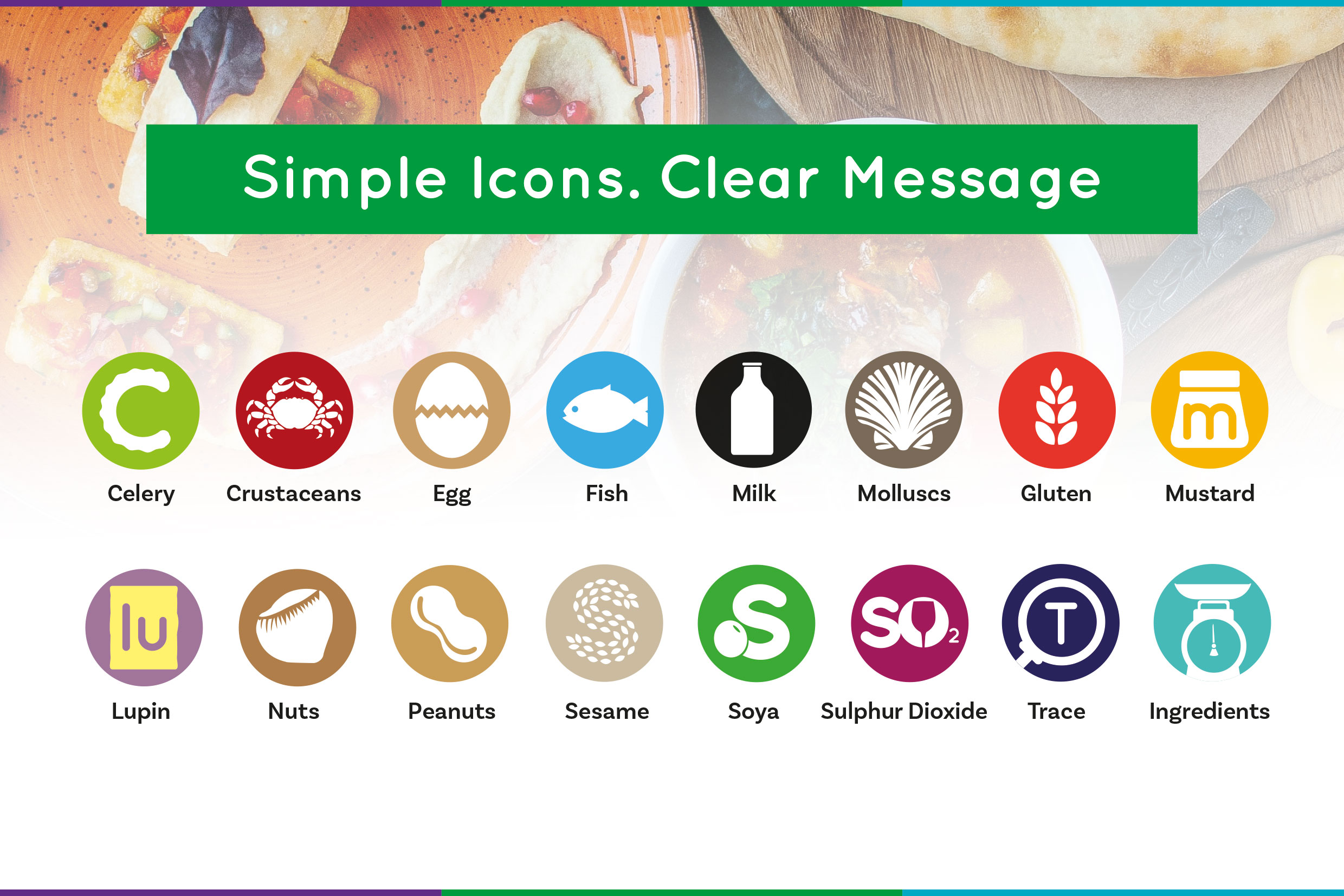 Safety first
Allergen Checker allows users to create their own virtual store cupboard, input ingredients, identify allergens and print menus as well as customised full ingredient labels to attach to items, so customers know exactly what's in their food.
Sean Gobbi is the catering manager at the Little Green Rascals Organic Day Nursery group based in North Yorkshire, which caters for around 450 hungry little mouths a day. He has invested in Allergen Checker's 'Plus' package and describes the system as "a lifeline".
"It is our responsibility to ensure the safety of all our children on a daily basis, as babies up until pre-school these young people do not yet have the immune system development to try and fight any substance that could be detrimental to their health," says Sean Gobbi.
"We work with nearly 50 different dietary requirements, including some severe allergies to ingredients not on the official allergen list, so we treat this responsibility with the utmost importance.
"Allergen Checker has been integrated into each of our seven Little Green Rascals sites, and it is proving to be a real lifeline. Mark manages our data inputting, ensuring that all our information is completely accurate, and saving us a huge amount of time.
"All that is left to do for us is to print off the label that corresponds with the dish we are producing and attach them to the products. The information that is displayed instantly lets the chefs and the practitioners know exactly what is present in every dish.
"The peace of mind Allergen Checker gives us married with the procedures we have in place already means that we can be 100% confident we have done everything that we can to keep our future generation as safe as possible."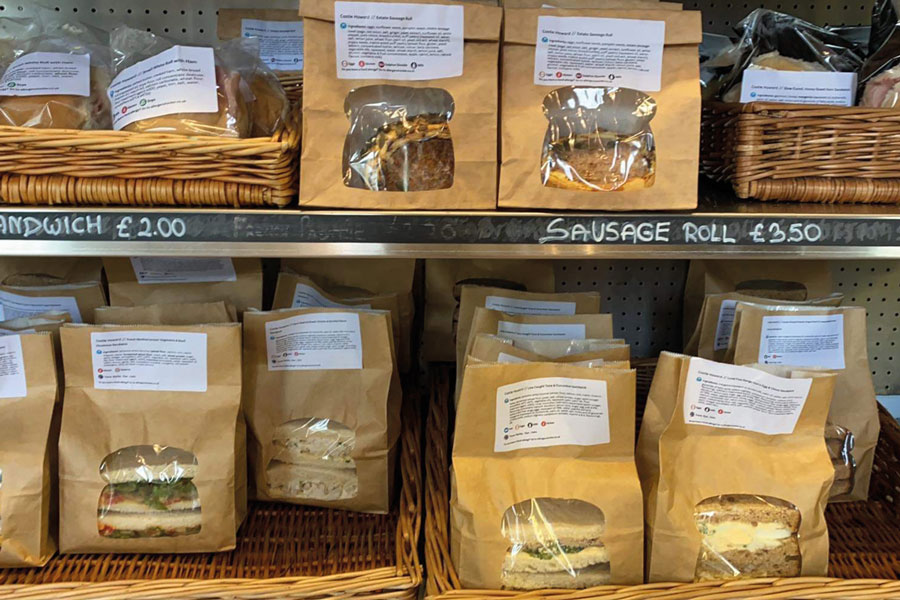 Easy to use
Another Allergen Checker user, Nathan Kelly, who is the head chef at the famous stately home Castle Howard in North Yorkshire, says: "We use Allergen Checker's software on a daily basis. It allows us to package our own range of freshly baked goods and daily prepared sandwiches while complying with all allergen guidelines and requirements.
"The software is incredibly easy to use and navigate. We input ingredients directly from our suppliers and create personalised labelling. It produces a clear and informed label that can be printed on site using your own choice of label paper.
"It is visually, well designed, up to date software. In summary it is extremely effective, easy to operate and maintain."
The Allergen Checker subscription-based service costs less than £1 per day for unlimited ingredients labelling, and the company is also donating £10 per subscription to the Natasha Allergy Research Foundation, which funds vital research into food allergies.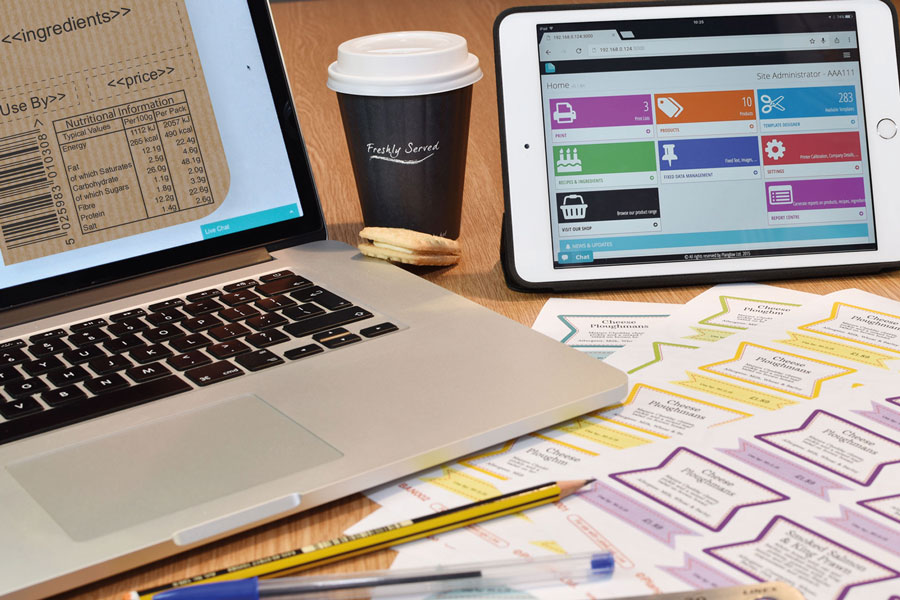 New partnership
Labelling and packaging provider, Planglow, has teamed up with food data specialist Erudus (www.erudus.com) to offer caterers direct access to thousands of branded products which may then be added directly to the caterers own food and drink labelling. This includes data sets from 140 national and regional wholesalers as well as the full ingredient declarations for 42,000 branded products from 800 manufacturers.
This new feature is available through Planglow's multi-award-winning labelling app LabelLogic Live. A quick and easy to use piece of software, it allows users to create and print their own food labelling online using any internet-connected device and a standard office/home printer, helping ensure legally compliant labelling for its users including the UK Food Information Amendment (also known as Natasha's Law).
"With Erudus's support we've been able to complement the existing capabilities of our own food labelling software to create an enhanced labelling solution for caterers using branded products in their food to go items. Our ethos is very similar, and we are delighted to have partnered with a company whose trusted data expertise so ably supports our own," says Planglow's national account director, Neil Steadman.
Erudus COO, Jon Shayler, adds: "Planglow's LabelLogic Live label printing is the crucial kind of solution that's going to help caterers adapt to the upcoming Natasha's Law, and the forward thinking of integrating it with our data pool means caterers can benefit from multiple efficiencies and benefits that will ultimately be passed on to their customers. Welcome to the Erudus fold, Planglow."
Devon-based college, Petroc, is one customer already benefitting from the integration.
"It's really easy to use. For example, if I was building a sandwich product (in the software), I select the code for the bread, the code for the butter, and the code for the filling - it's as easy as that - and I know it'll be correct. At the end of the day, it gives me peace of mind and that's what this is really about," says Petroc's catering support administrator, Paula Young.
Through LabelLogic Live, caterers can already create and print their own branded food labels, including basic product information, right through to barcodes, QUIDS, nutritional data, Reference Intakes and allergen information. However, by integrating the Erudus database with LabelLogic Live, this now encompasses the full ingredient declarations and nutritional breakdowns of thousands of branded products, as well as offering direct access to the data sets of 140 wholesalers.
"For caterers working with a regional or national wholesaler, the integration offers a direct route for automatically adding ingredients purchased from the wholesaler to their own food and drink products," adds Neil Steadman.
"So it's a case of simply typing in the product code as opposed to manually inputting data from a spec sheet, which then provides users with accurate product information that's always up to date. Meanwhile, in the case of foodservice providers who might not necessarily purchase from a wholesaler but who use a lot of branded ingredients, that caterer is now able to access a full ingredient declaration and nutritional breakdown of say a specific mayonnaise and incorporate that information into their own labelling."
LabelLogic Live (www.labellogiclive.com) is accessible via any internet connected device (laptop, mobile phone, computer etc). It prints labels using a standard home/office printer, and is offered on a subscription basis with flexible payment options available. It can also be integrated with a range of recipe management software programmes allowing users to automatically sync recipes, ingredients and other data, and Erudus integrations are available on request.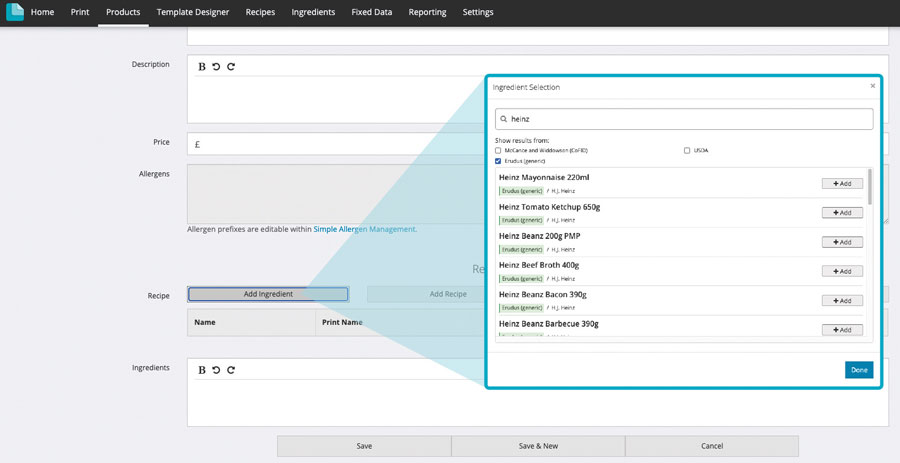 On site, on demand
Positive ID Labels originally developed their software some time back to deal with the EU FIC regulations that came into force in 2016.
"The crux of the problem this created for food producers is the data preparation for labels. The software solution we have is web-based, so independent of operating systems - i.e. it works on Apple, Windows, Linux, Android etc.," says director, Peter Howells.
The company's software solution is called Nutridata (www.nutridata.co.uk) and works by defining allergens in a library, loading pantry ingredients to make a recipe with all the allergens highlighted so as to be able to associate them with a particular product where additional data like barcodes, use by offset dates are defined. The products can then be downloaded as an Excel spreadsheet.
Their software comes in two variants. Nutridata Lite automatically highlights allergens (there are about 150 pre-defined allergens in the 14 categories, but the user can edit these themselves, and the system will not detect misspelled allergens), automatically prepares ingredient declarations and automatically places ingredients in QUID order (with percentages). Nutridata Pro has the added feature of offering nutrition data per 100g and per serving. It also calculates cost of ingredients for each recipe, performs a cook loss calculation and provides a product data sheets for kitchen staff.
"When the data has been prepared, the data is downloaded from the website. On the user's computer, this is linked to the labelling software so all the products in the database become available immediately. There is no need to design every label, we just design a template around the business brand that the information is placed on," explains Peter Howells.
"Nutridata forms the first stage of our solution towards labelling for food producers. The main components of our solution for any food producer, irrespective of Natasha's Law, includes the following."
1. Nutridata prepares the data that goes on the label.
2. LabelDirect - an off-the-shelf programme which designs labels using a Windows PC.
3. Label printer - we supply label printers using direct thermal or thermal transfer printing (direct thermal
suits the food sector as the labels do not need to endure for years).
4. The labels.
"The components outlined above are great for single user businesses who just need a single system running on a Windows PC."
Printing on site, on demand, gets rid of lots of problems, point out Positive ID Labels. There is minimal waste, as printing on demand produces the right quantity of labels every time. No stock holding, other than template labels for the printer, is required (having 30 product lines would mean lots of storage and stock management if you opted for 'bureau printed' labels supplied in advance). Additionally, there is minimal risk of running out of stock and preventing sales from not having the right labels available, as well as limited risk of having to bin labels if there are errors on them (pre-ordering lots of labels means any changes in product cannot be implemented). Labels can also be date stamped at time of print with no need for additional date labelling.
"We recognised that training staff to use a standalone labelling system - if it was managed on-site - would potentially be a huge cost burden and prone to error, so we made the user-end of the system child's play to use, and confidently estimate training a user to be less than one minute," adds Peter Howells.
"The company can manage their labels and data at head office with a well-trained individual in charge - a pretty normal arrangement for compliance. When the head office controller prepares the label data and design, they can then upload the data to another website we developed that does all the work of distributing the data. It is just a functional website at www.labeldata.uk
"The controller uploads their nutridata database and label design files from LabelDirect. This is now available to be polled by the remote outlets.
"At the remote outlet, an Android device has our Label Printer app installed. They need one of our printers and labels for that printer. The user simply opens the app and is presented with the categories of labels that have been prepared by the head office controller. So the user might see a list like baguettes, white sandwiches, salads, pastas etc. Whatever categories the controller created. The user then uses the touch screen to select the category, then the product they want labels for. They choose the number of labels they want and press print."
Their system also allows for each remote site to identify itself for public health tracking and the use by or best before date can be added to the product based on the specification set by the controller in Nutridata.
One major challenge faced by businesses is implementing changes or adding new products, point out Positive ID Labels, but because their solution works over the internet (rather than distributing memory cards or distributing pre-printed labels), they can instantaneously distribute new data.
"To add a new product, the head office controller builds the recipe and product in Nutridata and then re-runs the Label Direct software to create the new label file. This gets uploaded to the LabelData.uk website and hey-presto, every remote outlet has the new product," explains Peter Howells.
"An ingredient change is done the exact same way. The controller updates an ingredient composition in Nutridata, downloads the new database then re-runs the Label Direct file and uploads the files to LabelData.uk. This means any errors or new allergens found in ingredients are immediately updated across the business."