As food businesses across the UK re-opened last month, many have only just begun to look at the obligations and compliance requirements that need to be met by 1 October 2021 for Natasha's Law (the legislation coming into effect following the tragic death of Natasha Ednan-Laperouse, who suffered a fatal allergic reaction after eating a pre-packed baguette).
Fully informed
Food allergens can be life threatening, and the only way people can manage a food allergy is to avoid the foods that make them ill.
In the UK, it is estimated that 1-2% of adults and 5-8% of children have a food allergy. This equates to around two million people living in the UK with a food allergy; this figure does not include those with food intolerances (indeed, there are even more people living with a food intolerance).
An allergic reaction can be produced by a tiny amount of a food ingredient that a person is sensitive to (for example a teaspoon of milk powder, a fragment of peanut or just one or two sesame seeds). Symptoms of an allergic reaction can range from mild symptoms such as itching around the mouth and rashes or can progress to more severe symptoms such as vomiting, diarrhoea, wheezing and on occasion anaphylaxis shock. It even can cause, like in the tragic case of Natasha Ednan-Laperouse, death.
When purchasing a product, labels, especially brand labels, are the first thing consumers tend to see. Labels draw attention to the product. Depending on the design of the product, labels and packaging make a strong team and should complement each other.
In addition, labels are a source of information for consumers – a list of ingredients pointing out allergens so as to prevent people from buying the wrong products. In turn, this makes foods safer as required by UK Food Information Amendment (also known as Natasha's Law), and requires food businesses to provide full ingredient lists and allergen labelling on foods pre-packaged for direct sale on the premises.
The legislation is being introduced to protect allergy sufferers and give them confidence in the food they buy. PPDS (Prepacked for Direct Sale) food will have to clearly display the name of the food and a full ingredients list, with allergenic ingredients emphasised (for example in bold, italics or a different colour) on the packaging.
A few years ago, the EU also installed the EU Food Information for Consumers Regulation (No.1169/2011) that outlines the requirements for businesses providing food sold prepacked and non-prepacked (loose), such as food sold in a restaurant or takeaway.
In order to have food product labels that are compliant with the new UK Food Information Amendment regulation, it's not enough to just list allergens that are included in your product, point out DTM Print (who offer label printers that print full-colour, as well as on-demand labels, that are well suited for labelling PPDS food in order to meet the requirements of Natasha's Law). You also have to use a certain font size depending on the size of your label, and you also have to highlight those allergens in a certain way (more information about this can be found at the BSA web site – www.sandwich.org.uk)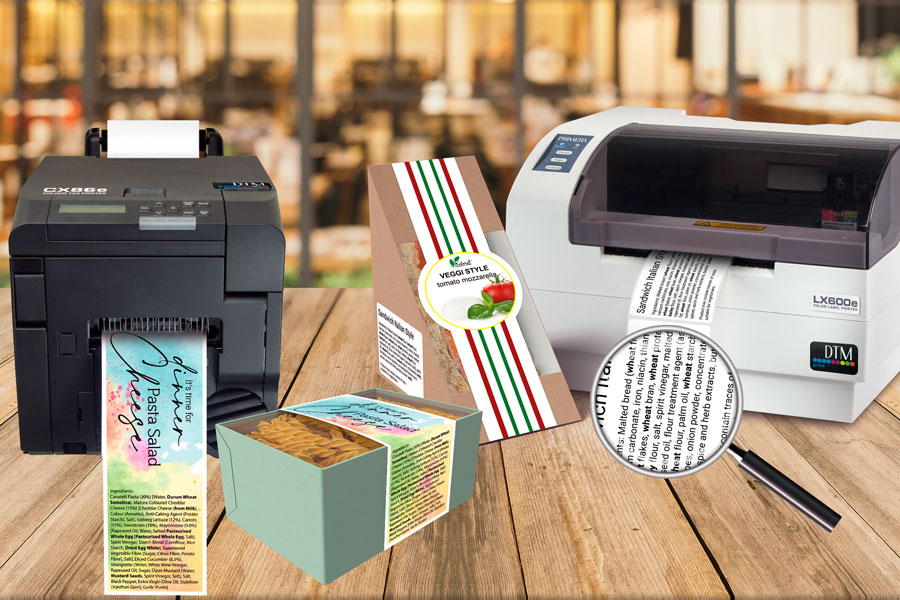 First source
A product label is the first source of information for people with food allergy and/or intolerance to help them decide if they can buy and eat that product without risking an allergic reaction, and recent studies have shown that the readability of information is a key factor to the consumer's purchasing decision, DTM Print report.
Food producers also have the challenge of designing a product label, which on the one hand contains all information required by the authorities but is on the other hand attractive for the customers. To capture all ingredients listed on a product label - at a glance - could be quite difficult, especially when the product itself is rather small (like chocolate bars).
In the creation and production of these labels, manufacturers therefore need a printing process which guarantees razor-sharp printouts even with a very small font size on a small label - the printed quality and appearance of these labels being extremely important and thus necessitating a professional appearance on packages. As well as helping to ensure compliance, this can easily make the difference between a product selling well or simply sitting on the retail shelf, advise DTM Print.
DTM Print, as an international OEM and solution provider for speciality printing systems, offers label printers that give food businesses the opportunity to print their own labels. Printing labels in-house gives the flexibility to react to market changes and to changes in their ingredient list, they feel, with operators able to print labels on-demand the day their foods are packed (you can then connect them with your database that contains all the current ingredients of each product).
Their product portfolio includes label printers using either inkjet or dry toner LED laser printer. The advantages of colour inkjet and colour laser label printing over other label printing technologies, they propose, include a lower cost per label leading to higher profits, time savings and fast adaption.
Printing only the number of labels you need is always a better choice and will cost less, they point out. Why order thousands, or even tens of thousands, of labels from an outside vendor when you only need 500? You'll also save money by eliminating obsolete label inventory.
Since businesses invariably print the labels when and where they need them, and only in the quantities needed, you can also save time and be able to get your product to market faster, they add. And since ingredients or legal requirements can change from one day to the other, manufacturers have to be able to adapt their product labels immediately without additional costs for new printing plates or cutting dies, DTM Print also emphasise.
Increased confidence
CGA research conducted on behalf of Access Hospitality has shown that 87% of consumers with serious food allergies or intolerances are poised to feel more confident in trusting the content of pre-packaged food out of home once Natasha's Law is in place.
The CGA survey showed that 39% of British consumers have some form of dietary requirement and over one in seven consumers (15%) with serious food allergies or intolerances feel that they can't trust the food they eat out of home. Nearly two thirds of this group (61%) are likely to purchase food to go "more" or "much more" frequently than they did previously once Natasha's Law is in place, they found, so operating procedures should not only be compliant but communicated clearly to improve confidence and trust and attract this important customer base, the researchers recommend.
The research was shared in a webinar to help operators understand and implement the adjustments to operating practices that are required. Hosted by Henry Seddon, managing director of Access Hospitality, the webinar also included clear advice on the details of Natasha's Law from the Food Standards Agency (FSA), supply chain procedures from BidFood and the role of technology in implementing changes consistently and safely and is now available to watch on demand via their web site.
Henry Seddon commented: "Although 39% of British consumers have dietary requirements, 88% of people will personally feel the benefits of Natasha's Law, or know someone who will. It therefore makes good business sense for anyone involved in the production and sale of pre-packaged food to be absolutely clear on their responsibilities and share that certainty with customers.
"Consumers with a serious food allergy or intolerance will spend, on average, £94 a month drinking or eating out, compared to an average monthly spend of £76 by non-allergic or intolerant consumer, highlighting how valuable their custom is to the market. The advice provided by the FSA in the Access Hospitality webinar clarifies exactly what is included in Natasha's Law, with some practical examples, and we explore how technology can make compliance and communication a seamless process along the supply chain."
The Access Group is a provider of business management software to mid-sized UK and Asia Pacific organisations, helping more than 47,000 customers across commercial and not-for-profit sectors become more productive and efficient. The Access Hospitality webinar – Getting ready for Natasha's Law – forms part of a wider support hub offering free resources, including a factsheet and guide to preparing for the law, that is available for all out of home operators at https://theaccessgroup.com/allergens.