As the food to go sector welcomes back its dearly missed customers, operators will need to tap into the latest trends and product launches to help make their offerings exciting and desirable, with the right use of herbs and spices, sauces and condiments helping to elevate any dish from average to wonderful.
As the food to go sector welcomes back its dearly missed customers, operators will need to tap into the latest trends and product launches to help make their offerings exciting and desirable, with the right use of herbs and spices, sauces and condiments helping to elevate any dish from average to wonderful.
Future outlook
Global flavour expert, McCormick, says that it has uncovered some of the likely trends that will shape the way we all cook, flavour and eat, having just revealed the twenty first edition of its Flavour Forecast®.
Since 2000, McCormick's Flavour Forecast has been identifying the top trends and ingredients to discover the tastes of tomorrow. Created by a global team of McCormick experts, including chefs, culinary professionals, trend trackers and food technologists, the Flavour Forecast aims to inspire culinary exploration and innovation around the world.
This year's latest trends open up new limits in the plant-based world with Plants Pushing Boundaries, invite comforting global flavours to the table in approachable ways with Humble Nosh and deliver the fresh, undiscovered ingredients and textures of the coast direct to the palate with Underwater, Under Discovered.
In addition, there is a burgeoning trend to reignite our health and wellness through the re-emergence of mindful eating and intentional ingredients based on ancient philosophy, say McCormick, with the Physiological Eating trend.
McCormick describe the Humble Nosh trend as "approachable, nostalgic and global". Drawing inspiration from the Yiddish word 'nashn', meaning 'to nibble on', rising global flavours are combined with universal food and drink formats to 'travel locally' and taste new flavours comfortably. In a time when many of us are seeking order and comfort in our lives, food delivers the nourishment we're craving, feel the company, and so we seek out familiar 'nosh' that has the power to give us 'the warm fuzzies' with each bite or sip. As a result, we find pleasure in the approachable, allowing us to gently dip a toe or two outside of our comfort zone, but without the risks sometimes associated with diving in the whole way they propose.
This connection to people, places and comfort through food is happening all over the world. From East to West, nostalgic foods, twists on classic meals and an emphasis on global curiosities all help us feel well-travelled in a safe, 'still close to home' way.
"Chefs and home cooks alike are using vibrant and unusual blends such as Chaat Masala (a fruity, savoury Indian spice blend with mango powder and black salt) to add a flavoursome twist to everyday comfort classics," reports Ian Craddock, senior research chef, McCormick UK.
"Chaat Masala Seasoning is a fruity and totally unique seasoning blend traditionally used to flavour Indian street snacks but can be used for so much more, like in drinks, curries and salads. Try pairing it with lemon in Chaat Masala and Lemon Loaded Fries (main picture) for a play on Indian street food."
Gary Patterson, executive chef and culinary director, McCormick US suggests Pandan Kaya Donuts. "Made with both pandan extract and filled with pandan kaya custard, these donuts are a sweet way to enjoy the coconutty, eggy flavour of the popular Malaysian green jam," he says.
The Plants Pushing Boundaries trend is all about indulgent, satiating, sensational and playful, flavourful vegetables, say McCormick - fruit and botanicals are pushed beyond their healthy halo into sweet and savoury food and beverages.
Plant-based eating is now mainstream, they point out, veggies have moved from the side of plate to the main event. This trend is about embracing all the brilliant colour, vibrant ingredients and playful plants flavours that heighten the eating experience, and whether vegan or just curious, there's something for everyone - colour, texture, satiety and even sweetness - in this boundary-busting trend.
Whatever your reason for exploring plant-based (dietary, environment or just for fun) these exciting innovations dig below the surface to discover a new way of flora-focused eating. Explore how the simple effect of charring elevates produce to a whole new sensory level and consider outside-the-box ingredients like juniper and Sichuan buttons for a dining experience like no other, suggest McCormick.
"Try an umami-rich Charred Tomato Ketchup," says Ian Craddock. "Charring tomatoes on the grill brings a rich, complex flavour twist to this umami-packed favourite."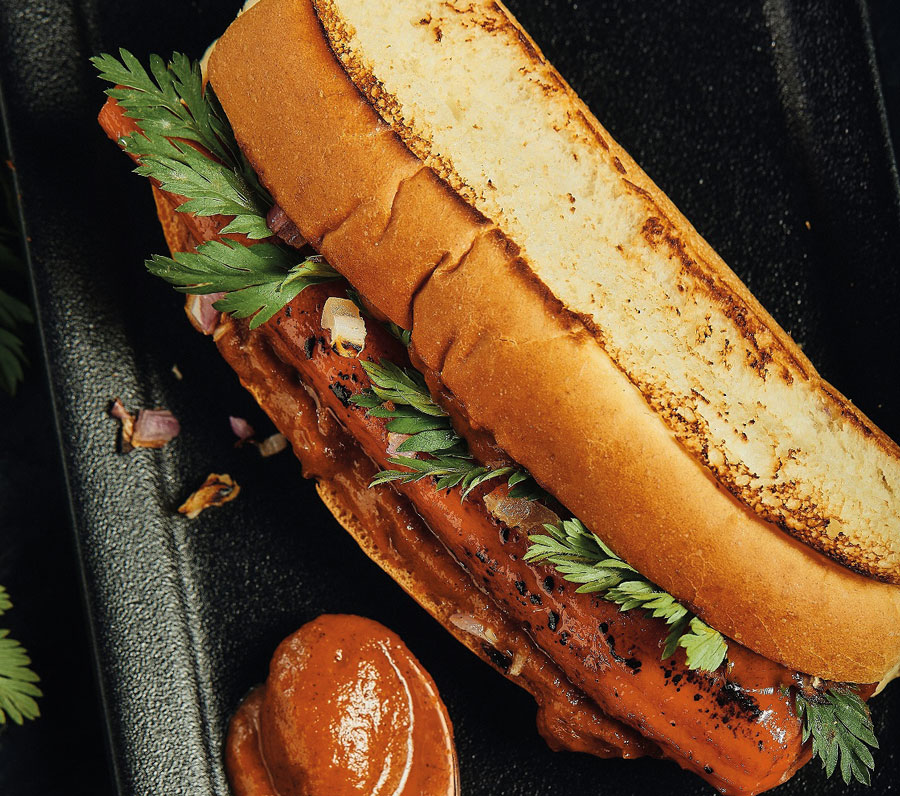 New launches
A London-based woman who lost her father, grandmother and two brothers in the Somali Civil War says that she has now achieved a life-long ambition by launching her own range of Africa-inspired sauces and pastes.
Saida Mia is behind a range of six products – three sauces and three pastes – using plant-based ingredients to create bold and distinctive flavours that have been passed down through generations of her family. Her range of sauces and pastes come in three flavours – Spiced Tagine, Berbere and Maraq – inspired by Morocco and Tunisia, Ethiopia and Somalia respectively.
The sauces can be used to create a delicious meal quickly and easily, making delicious, traditional or fusion meals with vegetables, meat or fish. They are also suited to serving with couscous, flavoured or plain rice, or bread or a traditional Injera flatbread.
Saida Mia was born in Somalia before her surgeon father's job took her to Italy when she was six, but after returning to her country of birth to see family in 1990, she and her seven sisters and two brothers were caught up in the conflict that raged between the Somali armed forces and various rebel groups. Saida and a sister managed to flee to neighbouring Kenya, but not before her father, grandfather and two brothers were killed in the fighting; Saida then being separated from her mother and the rest of her siblings for decades. However, she made it to the UK as a 15-year-old and was taken in by a family and subsequently went on to graduate with a master's degree from what is now the University of Westminster.
Saida Mia says that her love of cooking began as a young girl when she used to return to Somalia from Italy for the summer holidays. There she was taught the art of using herbs and spices by her grandmother, Xowa, an inspirational cook who had travelled around Africa, the Middle East, Italy and Portugal.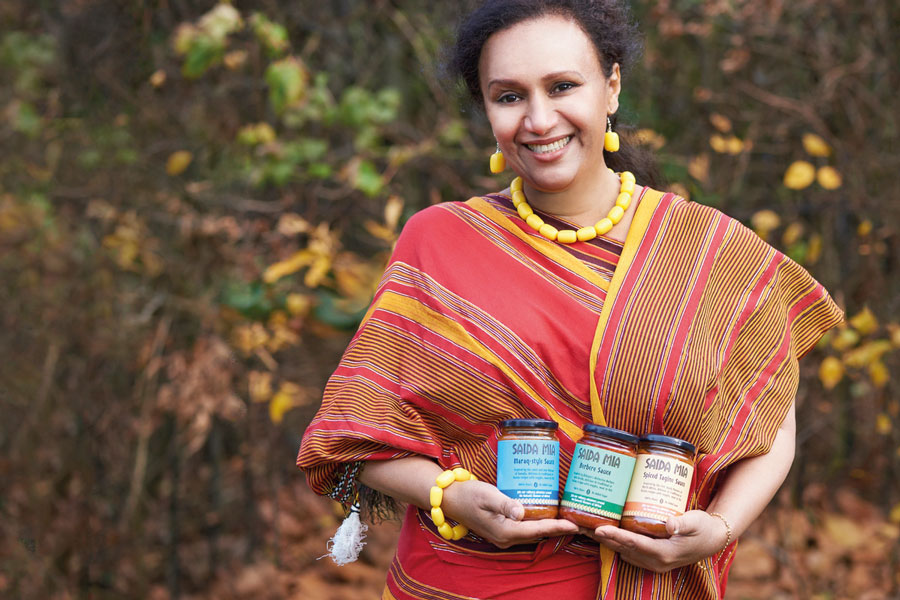 "These recipes have been in my family for a very long time," says Saida Mia. "The only communication I had with the Somali side of my family was through food – we'd talk about food all the time and share recipes."
The Saida Mia range of Africa-inspired sauces and pastes is currently available to buy on her web site (www.saidamia.com), but she is hoping to launch her products into retail stores very soon, and is looking for retail partners who are especially interested in ethnic products.
Country Range (www.countryrange.co.uk) has announced the launch of a new smooth and silky Vegan Mayonnaise just in time for the key condiment month of August.
The new flavour-forward mayo has been specially made to provide a thicker, creamier and more luxurious mouthfeel, claim the company, and is perfect for those following a vegan or plant-based diet, or those simply looking to cut down on the amount of animal products they consume. The new versatile mayo contains no allergens and comes in a convenient 2.27 litre pack to help chefs cut down on wastage.
A record 500,000 people signed up for Veganuary in January and a survey earlier this year from shopping comparison site Finder.com highlighted that there has been a further 40% increase in the number of people following a vegan diet since January 2020. With an estimated one in four new products launched in the UK now vegan, it's no surprise that the quality within the plant-based sector has shot up as discerning consumers search for great taste and not just a vegan tick box.
"The vegan and plant-based trend is showing no signs of slowing down so it's vital that operators of all sizes are able to cater to this growing market. With summer approaching and the key barbecue season of August on the horizon, where condiments reign supreme, our new Vegan Mayo is a winner every day, whether you're sprucing up salads, saucing up sandwiches or lubricating and livening up your barbecued treats," says Kate Bancroft, Country Range Group marketing manager.